Presented by Truc Deegan
Four 2-hour sessions from 1:00-3:00 pm
Sundays May 12, 19, June 2 & 9
in The Center's room G07
28 S Linn St, Iowa City, Iowa
Fee $140 (plus $60 supply fee or a list to buy your own)
Registration begins April 11
Open to first time and returning students. Truc Deegan will teach the ancient art of Chinese ink painting individualize to each student's level. She studied under Mr. Ang Swee Hin who is a master of Chinese Art in the style of 12th-18th century artists. Truc's teacher used his teaching to continue with different subjects as a way to improve the student's technique in painting. One finds it enjoyable to care and continue. Open to 8 participants. Registration required.
Register at The Center (319-356-5220) or online at
activecommunities.com/iowacityseniorcenter

Enter The Center through the Washington St. entrance or from the third floor of the Iowa Ave. parking ramp through the skywalk to The Center's ground floor. Then, proceed to room G07.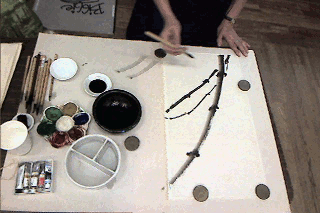 About the Artist
Trúc was born and grew up in Vietnam.  Trúc (pronounced Chook and it means Bamboo) migrated to the United States of America and became a citizen in 1970. She graduated in University of Iowa in Art History with Honors. She studied under Mr. Ang Swee Hin who lives in Penang, Malaysia, a master of Chinese Art with the knowledge of the style of the 12th-18th century artists.
Trúc has held a number of one woman exhibitions and participated in numerous competitive and judged exhibitions as well.  She has taught brush painting in the United States, Malaysia and Sri Lanka.  Her works have been purchased by art lovers around the world and are found in collections in Malaysia, Great Britain, France, Australia, Sri Lanka, the United States and elsewhere.  In 2001 the Iowa City Public Library selected one of her works for its permanent collection.  In 2002 one of her paintings received an Honorable Mention Prize at the Hooverfest.  In 2012 Art of Mercy Hospital collected two of her works for their art collection.
Many of her works are on display at Melrose Meadow, a retirement community at 350 Dublin Drive, Iowa City, Ia.  Recently, She had a joint show titled Midwest Summer: Light & Warm with other artists at the Iowa at Cedar Rapids Museum of Art.  Her latest exhibition was held in Central College, Pella, Iowa in Nov. 2016.