Join us at Omer Sanan's backyard for some painting. We will meet on Saturday the Aug 19 from 9 am to noon in an attempt to beat the heat. Omer has a beautiful backyard with a pond and a lot of flowers in bloom. Please register to get the address. Click here for directions. You will need something to paint or draw with and something to do it on. Drawing materials can include but are not limited to graphite, charcoal, pastels, watercolors, water-based oils, solvent based oils or acrylics. The choice is yours. An easel is very handy along with a stool or lawn chair. Dress for the weather. Maybe a hat and sunscreen. Don't forget a sweatshirt or jacket just in case. Bring your own snacks and beverages. If the weather is bad we will cancel or you may want to try painting outdoors under adverse conditions. It is up to you.
Free Admission
Plein Air Group
---
Fresh Paint Amana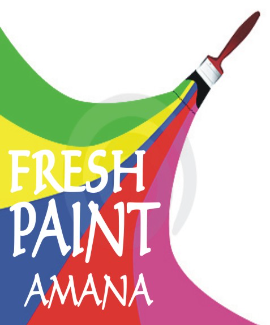 The Amana Arts Guild is hosting the annual Fresh Paint Plein Air over Labor Day weekend. Information and registration can be found at www.freshpaintiowa.org.
This is longest-running plein air event for Iowa.
---
Plein Air Pop-Ups
Let's paint! Join us on the Pentacrest (outdoors, east lawn) to kick off a series of Plein Air Painting Pop-ups hosted by local artist Andrea Smisek Gage. Thanks to Andrea, Arts IC ArtiFactory, and the City of Iowa City's Parks & Recreation department, this open air event welcomes all to the world of plein air painting. From the perfect vantage point, we'll use watercolors to paint downtown Iowa City and the iconic Old Capitol Museum.
All ages and skill sets welcome
All materials are provided (bring your own, if you would like)
Support/light instruction provided (for those interested)
No fee or registration required

Treat yourself to some fresh air, community, and something beautiful!
Plein Air Painting Pop-ups
---
In collaboration with Old Capitol Museum, Pentacrest Museums & Iowa City Parks and Recreation Dept. with support from HyVee and Blick Art Materials.
---

Body Parts
Beppie Weiss will share her drawing experience of the human body. She has drawn and painted hundreds, maybe thousands, of portraits and people drawings, and will help you improve your own drawing skills. Our goal will be to understand how it all comes together, and be able to draw it with more accuracy.