Dear Art Friends,
It must be April! The Shrimp Truck is back at the Dairy Queen lot and on 4/01, I got an email from my new art news source, "Hyperalergic". (Thanks for recommending it Marie.) There are two featured stories I want to share with you.
Prince Harry is to star in a new Van Gogh Biopic. Won't he be perfect? Two misunderstood redheads….one with two ears.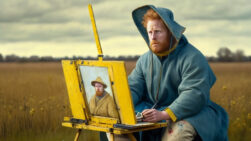 The other, also from England is titled "A Newly Discovered Trove of Vermeer Works Reveals He Painted Mainly Dogs". 243 dog paintings have been discovered in a store room in a castle near the town of Howes.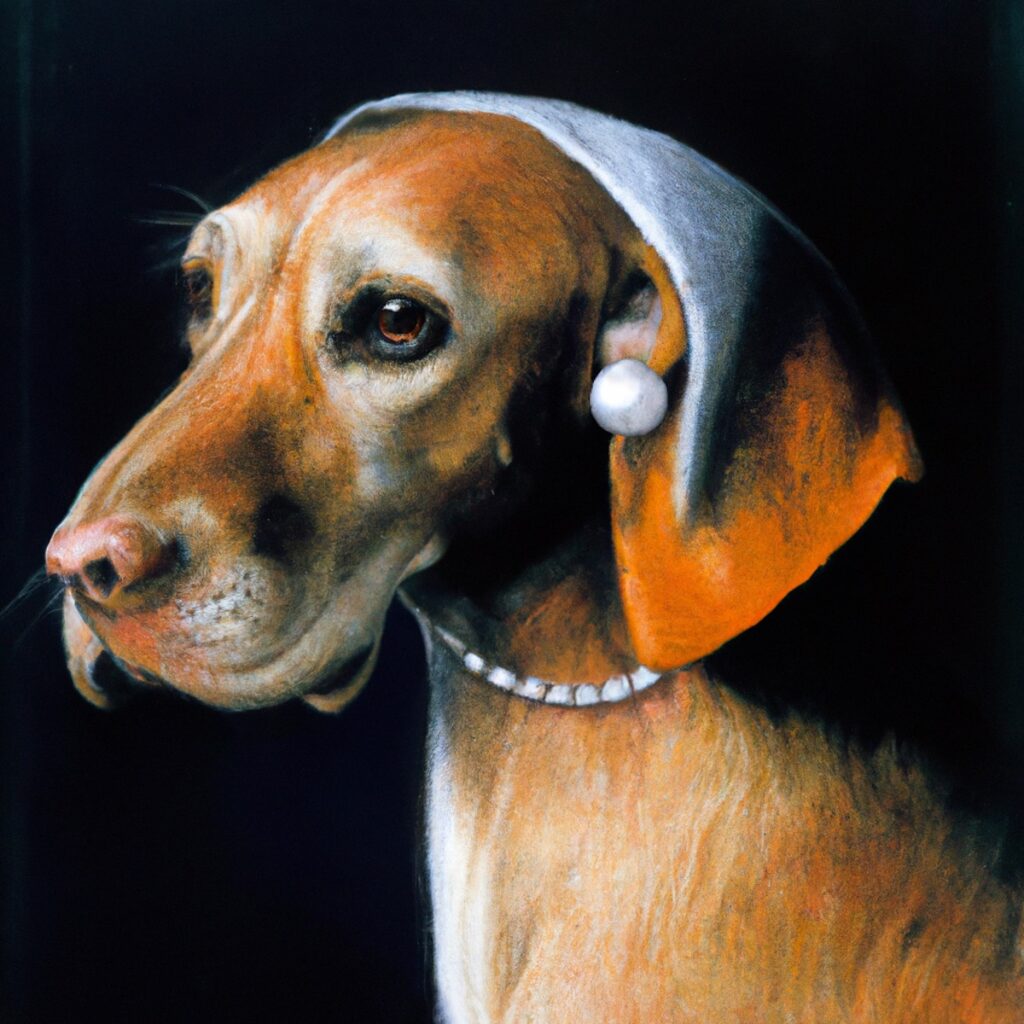 This masterpiece of about 1670-72 critics agree, is the likely result of the 1665 rough study of "The Girl With the Pearl Earring", a painting we are all familiar with. The Rijks Museum confirms the authenticity. I'm really enjoying this art news forum that comes to my mailbox pretty regularly and is always full of great stories.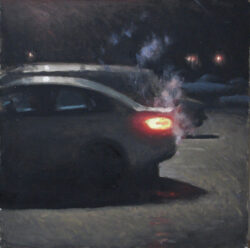 Back home in Iowa, a new exhibit at Hudson River Gallery is featuring work by painter Robert Caputo. "Night Paintings" runs through 5/20. View on line or visit the show.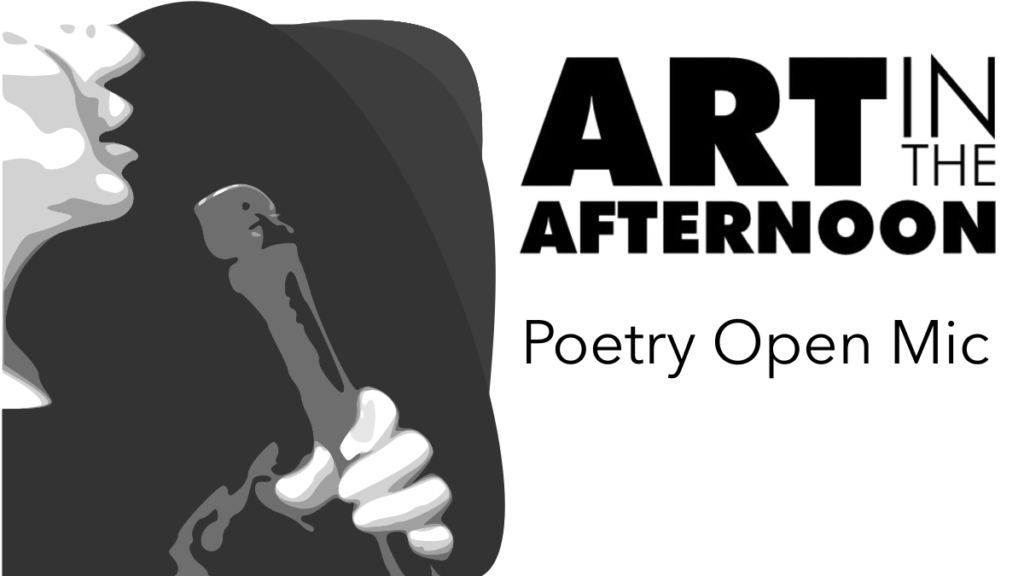 Last but not least is a new show going up in our gallery. It will be an exhibit of foiling art work and demonstrations by our foiling artists at The ArtiFactory and artists from the University of Iowa art department. Foiling is a printing technique developed by University of Iowa art professor, Virginia Meyers. This show will be going up this week and run through May 21. On Sunday April 23, the gallery will be open 2-4 pm for a special event celebrating Poetry Month. Double your pleasure and come see the foiling exhibit, listen to local poets read their work and enjoy light refreshments.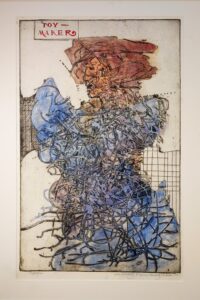 There are a couple plein air weekends coming up this summer and to get ready the ArtiFactory is starting our Plein Air Group again on May 6th. Details here.
The first, sponsored by "Art Domestique", is in Washington, Iowa on June 9-11 starting with a "nocturne" Friday evening.
The second is the Amana "Fresh Paint" event held over the Labor Day weekend, 9/1-3. The Amana Art Guild will be sponsoring this event.
Visit their web sites to register and put them on your calendar.
That all from me this month. Stay well, plant seeds and make art. Beppie
---
Apply now to be a part of the Iowa City Sculptors Showcase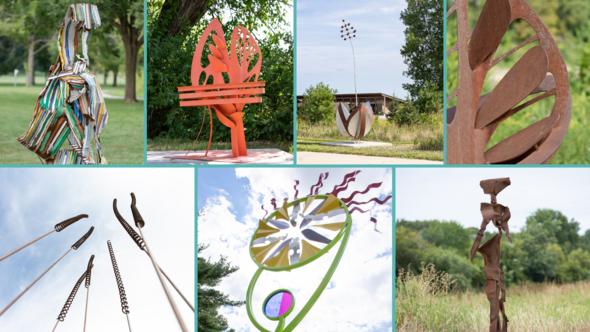 The City of Iowa City's Public Art Advisory Committee (PAAC) is again offering the opportunity for Iowa sculptors to showcase their work in Iowa City for one year.
Scattered throughout the community, the pads are located at Terry Trueblood Recreation area, along the Iowa River Trail, in Riverfront Crossings Park, at Mercer Park, and at Scott Park. See the location map for more detail. The PAAC will be responsible for reviewing and selecting the submissions and determining the most appropriate location for each.
These temporary exhibits will be displayed from August 7, 2023, through July 2024.
The proposed sculptures will be evaluated on artistic merit, creativity, public safety, appropriateness to their location, and durability in the outdoors. Work must be able to be securely installed on a 4' x 4' cement pad, be of the highest-quality design incorporated into its construction, and be able to withstand adverse weather conditions (high winds, rain, heat, snow, and freezing temperatures) and an unsupervised general audience. Unstable, fragile, dangerous, inappropriate, or small, lightweight works will not be accepted.
Artists will receive an honorarium of $1,500 for the one-year display. The deadline for submissions is Friday, May 19, 2023. Detailed information and the online submission form are located at www.icgov.org/publicart. Questions can be directed to Wendy Ford at wendy-ford@iowa-city.org or 319-356-5248.
---
Plein Air Group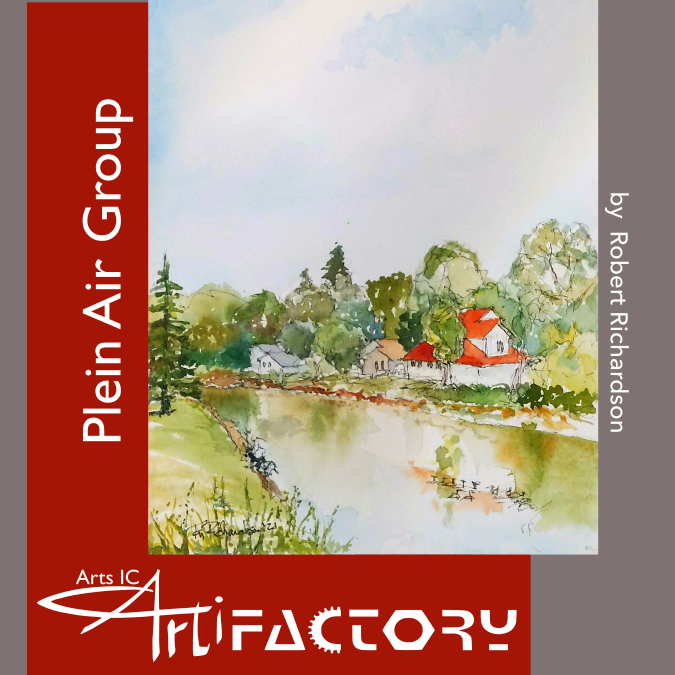 Greetings all of you plein air painters and plein air painter wannabes. ArtiFactory members, Beppie and Bob, are starting the Plein Air Group once again this spring. Our first location will be at the Tailwater West area of the Coralville Reservoir.
---
Figures in a Scene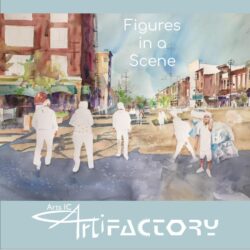 The figure is captivating and expressive but is in need of a sense of place. We will be working from photos, sketches as well as still life setups. Omer Sanan and Jo Myers-Walker will demonstrate techniques in drawing, watercolor and monochromatic value studies. There will be a short demo leaving time for walk arounds while the paint is drying. In an atmosphere of fun and enjoyment we can all learn from each other.
---
Life Drawing at the ArtiFactory
Join us for life drawing in the lower level of 120 N. Dubuque St., Iowa City, IA. Bring your own drawing materials which can include graphite, charcoal, pastels or watercolors. Acrylics, water-based oils, and regular oils using odorless terpenoid will be allowed. We will be drawing from nude, scantily clothed or dressed models. Must be over 18 to attend.
Please register for each session.
Phil Dorothy Drawing Studio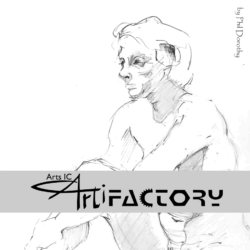 Thursday Night Life Drawing
Long Pose Studio Group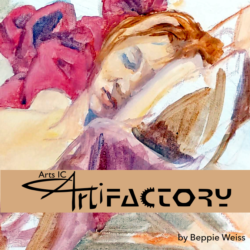 Sunday Morning Studio Group
Body Parts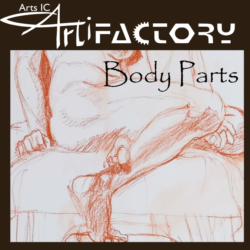 Beppie Weiss will share her drawing experience of the human body. She has drawn and painted hundreds, maybe thousands, of portraits and people drawings, and will help you improve your own drawing skills. Our goal will be to understand how it all comes together, and be able to draw it with more accuracy.
---
The Foiling Studio Group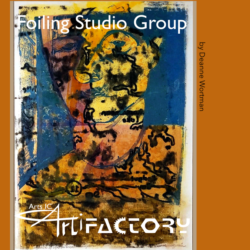 Foiled Paperworks
Maybe you are a First-time Foiler or returning for Foiled Again! Experience fine art foiling in our studio group. The creation of foiled paperworks typically involves the use of metallic or pigmented foil to add decorative elements to your artwork. This could include adding metallic accents to drawings or paintings, or using foil to create unique textures or patterns on the surface of the art piece.